CORONAVIRUS UPDATE - AS OF 1 June 2022
Further Covid-19 advice - Click here
Due to Coronavirus, we ask that any patients attending the practice to still wear a face mask or shield whilst within the practice. If you are testing positive with Coronavirus please DO NOT attend the surgery.
At present we are still triaging all emergencies and only offering telephone appointments with the GP's and the ANP. Please be reassured that if you need to be seen, the clinician will speak to you over the phone in the first instance, then bring you to the practice if needed.
PLEASE REMEMBER THAT COVID19 IS A VIRUS AND ANTIBIOTICS WILL BE INEFFECTIVE AGAINST IT!
IF YOU ARE REQUIRED TO BE SEEN IN THE PRACTICE YOU BE GIVEN A TIME TO COME AND A CLINICIAN WILL SEE YOU EITHER IN THE PRACTICE OR THE ALISON LEA MEDICAL CENTRE BUILDING TO THE RIGHT OF THE PRACTICE.
Please order prescriptions using our telephone ordering service. You can do this by calling the practice on 01355 227220 and press option 2 . Please leave a note of which chemist you would like your prescription to go to. We encourage you to also order via our website and through Vision online
All sick lines can be posted out to your home address OR collected from the practice.
---
ATTENDING THE PRACTICE FOR A FACE TO FACE APPOINTMENT
ALL PATIENT WILL BE ASKED A SERIES OF QUESTIONS BEFORE ADMITTED TO THE BUILDING. IF YOU ANSWER YES TO ANY OF THESE QUESTIONS YOU WILL NOT BE PERMITTED ENTRY AND ASKED TO RESCHEDULE YOUR APPOINTMENT A.
Covid-19 Screening Questions
Do you or any member of your household/family have a confirmed diagnosis of
COVID-19 diagnosed in the last 14 days?
Do you or any member of your household/family have suspected COVID-19 and are
w aiting for a COVID-19 test result?
Have you travelled internationally in the last 10 days to a country that is on the
Government red list?
Have you had contact w ith someone w ith a confirmed diagnosis of COVID-19, or
been in isolation w ith a suspected case in the last 10 days?
Do you have any of the follow ing symptoms;

High temperature or fever?
New , continuous cough?
Any loss or alteration to taste or smell?
---
Pregnancy and Newborn Screening Programmes will continue where practical – these are tests and scans offered during pregnancy and just after birth.
For more information, please visit www.nhsinform.scot/screening or call NHS Inform on 0800 22 44 88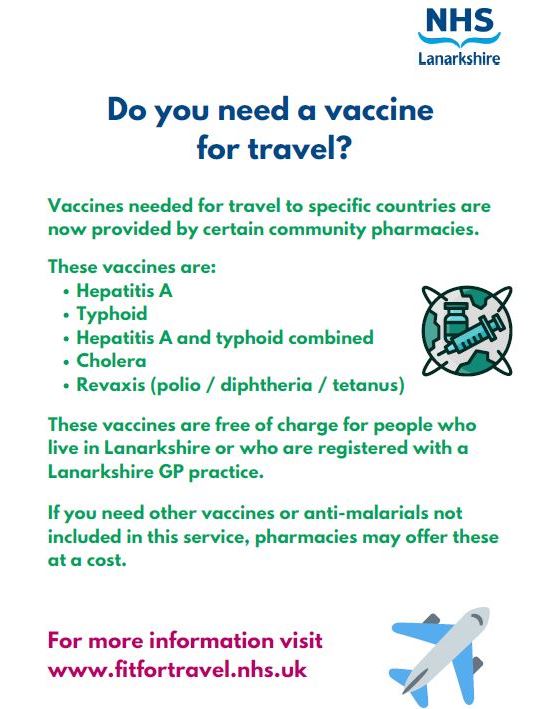 Flu & COVID Vaccinations, Exemption Certificates and Vaccination Proof
Covid Booster Vaccinations
Make sure you book your COVID-19 booster to maximise protection
People aged 18 and over can book boosters online.
All adults aged 18 and over can book their appointment for a COVID-19 vaccine booster through the online portal on NHS inform: www.nhsinform.scot/covid19vaccinebooster If you are unable to access the online portal you can book an appointment through the National Helpline on 0800 030 8013.
TREATMENTS FOR COVID-19 INCLUDING ANTIVIRALS
The practice is not able or responsible for prescribing these treatments. We advise all patients to contact the NHS Lanarkshire dedicated helpline for advise on this, on 01355 585 145
More information can be found at https://www.nhsinform.scot/covid19treatments
PREGNANCY AND BREASTFEEDING
The COVID-19 vaccine is strongly recommended in pregnancy. Vaccination is the best way to protect pregnant women and their babies against the known risks of COVID-19 in pregnancy. It is important for pregnant women to get both doses of the vaccine, and the booster dose, to protect themselves against COVID-19.
The COVID-19 vaccine can be given at any stage during pregnancy. Make sure you know as much as you can about the COVID-19 vaccines and the risk of COVID-19 in pregnancy. More information at nhsinform.scot/covid19vaccinepregnancy
The Joint Committee on Vaccination and Immunisation (JCVI) has advised that the COVID-19 vaccine can be given to women who are breastfeeding. If you are breastfeeding, or planning to breastfeed, you can continue breastfeeding after vaccination. You can continue breastfeeding as normal after vaccination.
---
COVID FACEMASK/VACCINATION EXEMPTION CERTIFICATES
It

has come to our attention that some airlines are asking their customers to provide an exemption letter from their GP before they agree to them flying without a face mask.
Unfortunately this is not something your GP can provide. Please DO NOT contact the Practice regarding this.
As per Scottish Government, exemption certificates are not required, however, should you need this for travel purposes for any Airline you can request a free face covering exemption card by phoning 0800 121 6240 or can still be downloaded here - Download a Card | Face Covering Exemption Card Scotland
PATIENTS PLEASE NOTE THAT THE SCOTTISH GOVERNMENT IS DEVELOPING AN ONLINE PORTAL FOR ANY PATIENT WHO WISHES A COVID VACCINATION EXEMPTION CERTIFICATES
THE PRACTICE IS UNABLE TO PROVIDE COVID VACCINATION EXEMPTION CERTIFICATES
---
IF YOU REQUIRE PROOF OF COVID VACCINATION, PLEASE

DO NOT

CONTACT THE PRACTICE.
PLEASE VISIT NHS INFORM WHO WILL PROVIDE THIS FOR PATIENTS:
---
IF YOU REQUIRE TO UPDATE YOUR COVID VACCINATION administered in England, Wales, Northern Ireland, Guernsey, Jersey, Isle of Man or the Republic of Ireland.
PLEASE

DO NOT

CONTACT THE PRACTICE.
PLEASE VISIT NHS INFORM WHO WILL PROVIDE THIS FOR PATIENTS:
---
COVID "Proof of Recovery" for Travel CERTIFICATES
As per guidance from the Scottish Government and the GP Local Medical Committee, this is not something your GP can provide. Please DO NOT contact the Practice regarding this.
If you require further information regarding travelling abroad please see the NHS Inform Website

Welcome to Strathcalder Practice
The practice was formed in June 2015 following the merger of Strathmore Surgery and The Calderwood Practice.
The Strathcalder practice consists of 3 GPs, an Advanced Nurse Practitioner, a Practice Nurse, a Healthcare Assistant, a Staff Nurse and administrative staff.
We have a number of Allied Health professionals that work within the practice including:
Advanced Physiotherapist
Community Pharmacist
Community Link Worker
A Mental Health Worker
We have close links with the district nurses and health visitors attached to the practice. We provide a variety of General Medical Services including house visits, appointments, telephone advice and prescriptions.
Other services available within Alison Lea Medical Centre include physiotherapy and podiatry. We also have access to the local treatment room, based at Hunter Health centre, who are responsible primarily for blood tests, injections and dressings. The practice has close links with community pharmacists, dieticians, community addictions services, community psychiatric nurses and MacMillan Nurses.
Keep up to date with the latest practice news